Ridgemark Retrievers Puppy Program
Our puppy program is second to none. Our goal in this program is to provide an organized socialization process prior to your dog entering the formal gun dog program. Proper socialization is often overlooked and can make or break your dogs training success; this will ensure that your dog will be ready for the next level of training. This program is designed to promote a strong and stylish work ethic through the proper introductions of retrieving on land and water with birds and dummies. Your puppy will also get introduced to gunfire and get tons of people exposure while going through this program.
Obedience Program
Ridgemark Retrievers offers an obedience only program for dog owners with no interest in duck hunting. This two month program includes the teaching of the commands heel, sit, stay, kennel up and lay down. Your dog will be trained on all commands with and without the leash once the program is complete.
Ridgemark Retrievers New Litter Announcements
FC AFC Lacrosse Max Q Jake OS FDHF x Lizzy Cat Ready Dawn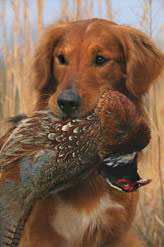 FC AFC Lacrosse Max Q Jake OS FDHF ( Jake )
Pedigree
Hips : OFA GR-81624F24M-PI
Eyes : Cerf GR-28895N
Sire : FC AFC OTCH Topbrass Ascending Elijah OS/FDHF
Dame : Redstars (Tess) of Lacrosse MH WCX***OD
Accomplishments :
Member of GRCA Field Dog Hall of Fame
Qualified for 2007 National Retriever Championship
Qualified for 2006,2007 National Ameteur Retriever Championship
GRCA Outstanding Sire
Sire of FC Firemark Rackem and Stackem Casey( 2010 national retriever champion qualifier)
Sire of 2010 Top Derby Golden
Side of 8 QAA
Sire 3 MH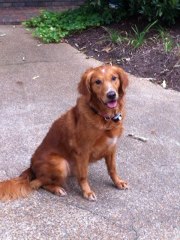 Lizzy Cat Ready Dawn ( Lizzy )
Pedigree
Hips : OFA GR-1062116657F-VPF
Elbows : OFA GR- EL26981F57-VPI
Eyes : CERF GR-371626
Sire : GRHRCH Will E. B. Ready MH
Dame : HRCH Sunny Dawn's Ruby Ready Torch SH
About this Breeding
These are two beautiful dark golden retrievers. Jake is a fantastic dog and his accomplishments speak for themselves. Jake is trained 100% by amateurs who hold real jobs outside dog training. Lizzy is my 5 year old dog. She has never entered a field trail or hunt test, I was 16 when I got her and had neither time nor money for trials or hunt tests, but she is an excellent duck dog that is very smart, runs great marks, has a fantastic nose, and a great temperament. Jake has great field trial lines with many FC and AFC titles, while Lizzy has excellent hunt test lines with many GRHRCH, MH, and HRCH. These puppies will be the best of both worlds. To view thee lines click on their K9 data pages above. Puppy's with full registration, shots, dewormed and dew claws removed. These types of puppies don't come around very often especially in the South.